Showing all 7 results
Dental Medicine Company – Fortune Labs is here with all the Quality assurance Pharma Product Ranges for PCD Franchise in India. Comprising all the Pharma Segments in India, we are considered the Leading Dental Medicine Company. For this, Fortune Labs is delivering a wide-ranging provision of products such as tablets, capsules, ointments, gel, etc.
Our business is an effectively prominent business franchise prospect for the acquaintances who contact us for the Dental range in India. We have been sustaining as the leading Franchise Company in India with the richest excellence of dental pharma medicines.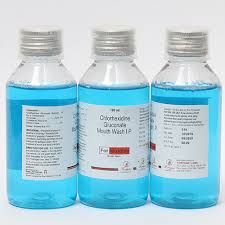 Fortune Labs is straightforward about its purpose to rise and lending hands to the pharmaceutical industry in India by delivering all the efficient dental ranges. The manufacturing prospects for the Dental medicine range by Fortune Labs are extensively spread across PAN India and this prospect defines our prominence for all the franchise associates.
Our dental range is extremely functional for curing teeth and gum-related problems. For further information regarding dental medicine, range read this article thoroughly or calls us on 9875988030 or writes to us at gm.fortunelabs@gmail.com.
Forhexidine Mouth Wash
Forhexidine Mouth Wash is used in the handling of inflammation of gums. It helps to get rid of the hurtful germs in the mouth cavity that results in inflamed gums, and tartar, a bad smell. In this manner, it cures the causing area and heals oral problems rapidly. Hexidine Mouth Wash should be used precisely as directed by your doctor.
Follow the doctor's advice or consume it in the dose and prescription suggested by the doctor. Do not stop consuming it until you have completed the course. Especially avoid food, drinking or smoking for at least 30 minutes.
Price – 219.72
Best Manufacturer and Supplier Dental Medicines – Fortune Labs
Our company, Fortune Labs has prominence in the pharmaceutical market for the varied range of medicine used in dental care at reasonable or genuine prices. Our huge experience in the pharmaceutical healthcare field makes us prominent. We are skilled in delivering other range of medicine such as Cardiovascular Drugs, Gastro & Antiemetic & Anti Ulcerant, Haematirics, Hormones, Neurology Supplements, and Nutritional Supplements.
Our complete dental medicine range comprises Tablets, Syrup, Protein, Sachet, Dry Powder, Capsules, Injectables, Ointment, Eye & Ear / Nasal Drops, Ayurvedic Products. Owing to our massive expertise, we are proficient to achieve the faith of many stockholders, distributors, and hospitals. Demands medicine from our company in bulk. Following are the highlight of our premises:
WHO & GMP certified Pharma Units
Reliable Franchise Distribution Associations
Wide-ranging of Pharma Products for PCD Franchise
Separate Unit for Quality Assurance Control
Full Proof Packaging devoid of outflow and breakage
Long term involvement for the Gynae PCD Franchise
Gaining faith since the inception
Excellence Promise Followed by Fortune Labs
Fortune Labs never compromise with the excellence of our offered medicine range. Self-owned formulations components are there that are certified under the guidelines of GMP-WHO. We have made a separate section in our company, reserved for the checking of the value of our each manufactured components. We don't cruelly test our medicines on animals.
All the quality factors are firmly tested on every bulk of the product. Whenever they notice any product variety, it sends it back to the formulating department for its renewal. This is how our company's guidelines are up to the mark.
Perks of Joining Hands with Fortune Labs
Our company is one of the reputed dental medicine companies in India. We bring you a wide range of ISO 9001:2008 approved dentist medicines. We bring you reliable and best quality dental variety. World-class facilities are delivering to our acquaintances that are looking for better manufacturing deals nearby. Fortune Labs is a Panchkula-based Pharma company that has joined hands with quite a lot of prominent establishments in India to provide reliable, effective, and proficient pharma formulation facilities.
Why Fortune Labs?
As one of the rising PCD pharma organizations in India, we continue improving and increasing our expectations by keeping update on our formulation process and business. At Fortune labs, we continue to improve the process in which we formulate dental medicines and how to improve our product range.
Our PCD Pharma Company is continually striving to add on more new pharma products to the marketplace each year. Fortune labs are a sister partner of Prosperity 6 Pharmaceutics who is manufacturing the outcome of Multi-National Company. We have a wide range of dental medicines.
Most Searched Keywords
Dental pharma companies in India
Top dental pharmaceutical companies
Dental manufacturing companies in India
Pharma Franchise For Dental Medicines
Dental products in PCD companies
The dental products franchise company
The dental pharmaceutical company
Contact Detail
Name – Fortune Labs
Address – S.C.F 258, 1st Floor, Sec-16 Panchkula
Phone No. – +91-9875988030